With the film Yesterday being released recently where we experience a world where only one man remembers the Beatles, we thought that we'd jump on the Sgt Pepper's Lonely Heartclub's Bandwagon and tell you a few things you should know about the Fab Four. Sadly, the name of this website isn't a play on their song Day Tripper, though we have been known to say StayTripper in tune on occasion….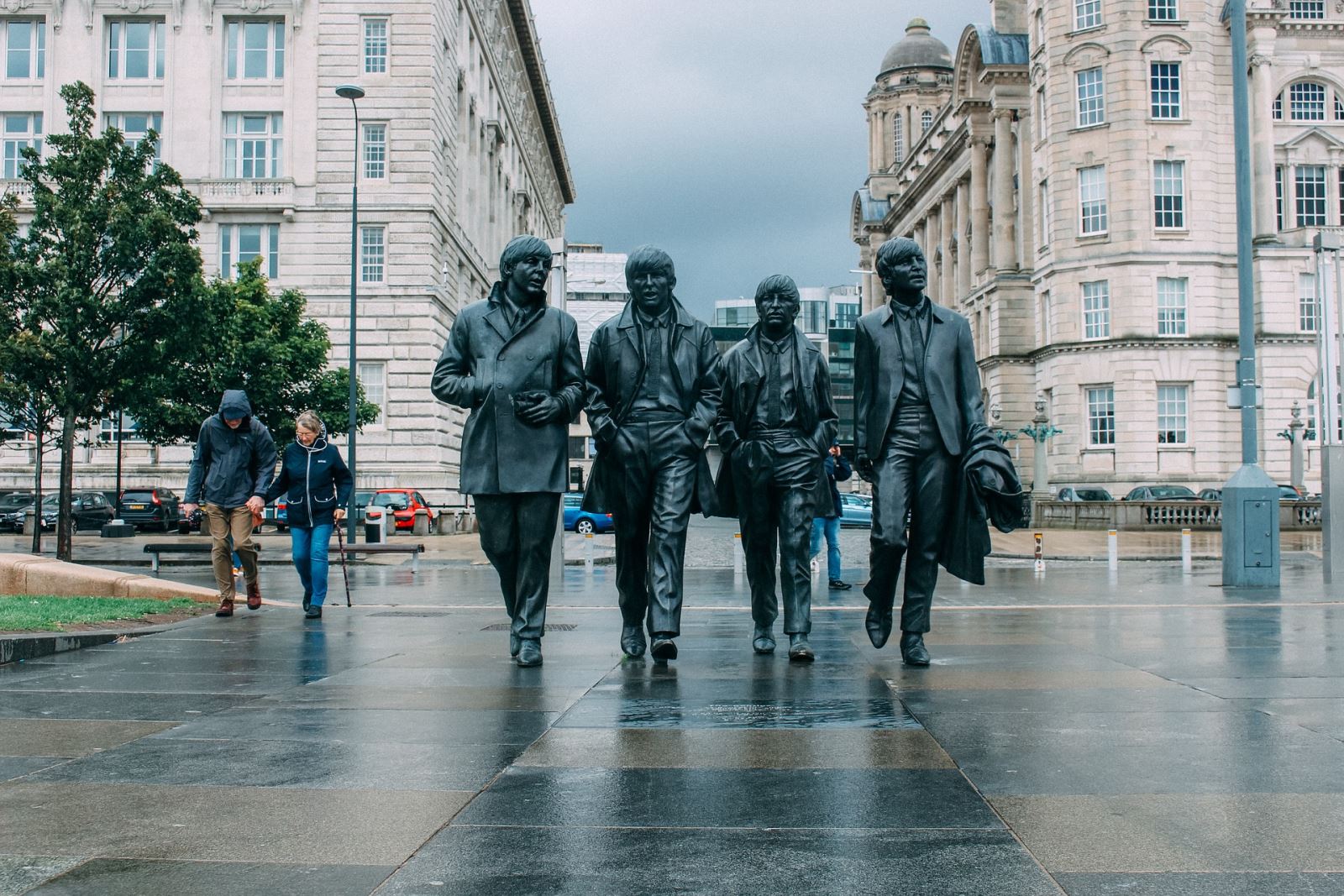 The Beatles statues in Liverpool.
Obviously the best place to have a Beatles themed break is Liverpool, but areas of London (specifically Abbey Road) are also important in terms of Beatlemania. So if you fancy wowing your friends following a screening of Yesterday or you want to complete one of the many Beatle themed tours and attractions while also spouting out some facts, we have you covered.
Penny Lane is a real place, it can be found in Liverpool and is consistently being vandalised by Beatles fans writing declarations of love all over it. At one time it also included Paul McCartney's signature.

There are two members of the Beatles that are left handed, Paul McCartney and Ringo Starr.
The song Yesterday (which inspired the film) is one of the band's most covered songs, but did you know that initially the lyrics were: "scrambled eggs, oh my baby I love your legs"? Well. Now you do. Paul McCartney said he wrote the melody and the music before he put the lyrics together. The song has been covered over 1,600 times with artists such as Elvis Presley, Frank Sinatra, James Brown and Gladys Knight doing their own version.
Speaking of Paul McCartney… There has been a long running conspiracy theory that he died in a car accident in the sixties during the height of Beatlemania and this fact was covered up with a lookalike being passed off as Paul. The conspiracy theory came out of the fact that people think the Abbey Road cover looks like a funeral procession and that if you play certain songs backwards you can hear the phrase "Paul is dead." Other clues are that in Sgt Pepper a reference is made to Billy Shears, who is so called the fake Paul.
They were the only band to have knocked themselves off of the number one spot. They are also the only band to have had a so called double whammy, when they knocked the Rolling Stones off the top spot of both the singles and album charts in 1964.
They may have written some of the best songs ever to grace the charts, but none of them could actually read or write music, even though they were all proficient at singing, playing guitar (and various other stringed instruments), piano and drums.
John Lennon was legally blind, he was also dyslexic, so don't let anyone tell you you can't be successful if you struggle a bit with reading and writing.
The term Beatlemania was coined by the Daily Mirror. I hope we don't have to give them royalties for using it here…
The Beatles were the first band to feature the lyrics on the back of an album cover, the album was Sgt Peppers.
They auditioned for Decca records before getting their record deal and were turned down on the grounds that "guitar bands were on their way out". Bet whoever made that decision regretted it.
The first gig the group did as The Beatles was at the Casbah Coffee Club in Liverpool… Wanna know what else is on in Liverpool? Click here.
Despite the fact that they are one of the UK's most popular exports, they actually had more success in America, they had 21 number ones there compared to 17 in the UK.
Strawberry Fields is an actual place and its in the UK, you'll find it in Liverpool near John Lennon's childhood home.
The entire Please Please Me album was recorded in one day. ONE DAY. So, if they can record a work of genius in one day, think of what you can do!
You can spot many locations around the UK in their films, A Hard Day's Night and Help! Including various spots around London.

Image: Abbey Road, London.
Want to see what Beatles related events are going on? Click here.
Related