You might see an advert for a tattoo convention and think that it is just for those with full arm sleeves, but you'd be mistaken. These days, tattoo conventions are just as accessible and inclusive as a craft fair, but can still be a little intimidating, so we've put together some tips for you.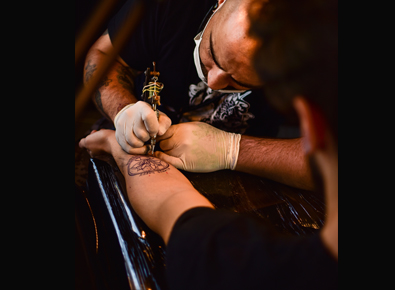 If you are planning to get a tattoo at a convention, whether it is your first or one of many, it isn't as easy as just popping into the event and scouting out the first person you see with a tattoo machine. The convention will be full of artists who will be doing tattoos, but there are a few things you will have to have done before you run for your favourite artists' table.
Artists take bookings before their appearance
If you are attending a convention because there is an artist you're interested in meeting, it would be a good idea to check their social medias a couple of weeks before the show to see what spaces they have available. That doesn't mean to say that there won't be slots available at the event, but it is always better to plan in advance.

Many artists will have a minimum for conventions and or pre-drawn designs
Much like if you go to a studio, there will be a minimum cost for getting a tattoo, many of the artists that appear at conventions are at the top of their game, so this isn't a great place to go for a cheap tattoo. Because of the amount of time they have available, many of the artists will only be offering pre drawn designs, so it is always a good idea to keep an eye out for their portfolios online so you can see what sort of tattoos they offer and their prices.

Be prepared for costs to be higher
At conventions, artists will have travelled, some great distances, plus had to hire or bring their equipment with them. It's expensive to appear at these kinds of events, so be prepared for higher prices on tattoos and merchandise.

Artists will be too busy to chat, so don't think they're being rude
Some conventions, especially the bigger ones, will attract 'celebrity' tattoo artists, such as ones that have appeared on television or are known for tattooing the rich and famous. These guys, along with their other artists, are working and you have to remember that. No matter how keen you are for them to tattoo you or design you something, they will not have time, by all means say hi and make small talk, but it is bad form to badger them about your tattoo designs or try to make appointments with them when they are busy.

You will not be able to get a big tattoo at a show
If you do book a slot beforehand or manage to get a walk up slot, be aware that time is short at these events and you will have to settle for something small or pre drawn. If you have your heart set on a sleeve or a back piece, it is unlikely they will be willing to do that for you, these kinds of tattoos can take all day, so be respectful and bare this in mind. It might just be that you manage to get a contact to book something bigger at a later date.

Don't bring friends with you
Yes, by all means go to the convention with your friends, but the actual booths where the tattooing happens are very small. It isn't really cool to bring your squad with you anyway, but especially not cool for them to crowd around when you're being tattood. So, leave them out on the convention floor.
Hopefully these things will help you have a great time at a tattoo convention!
Above all, remember to bring plenty of money with you, snacks and drinks and wear comfortable shoes and clothes. Conventions are very busy and you will get warm, plus there are always interesting things to buy and of course, the opportunity to get a tattoo, so keep your sugar levels up and your pockets full.
Related