Cheltenham Music Festival is celebrating it's 75th anniversary this year, so why not head to the city and join the celebration from 5th – 14th July, tickets went on sale on 3rd April.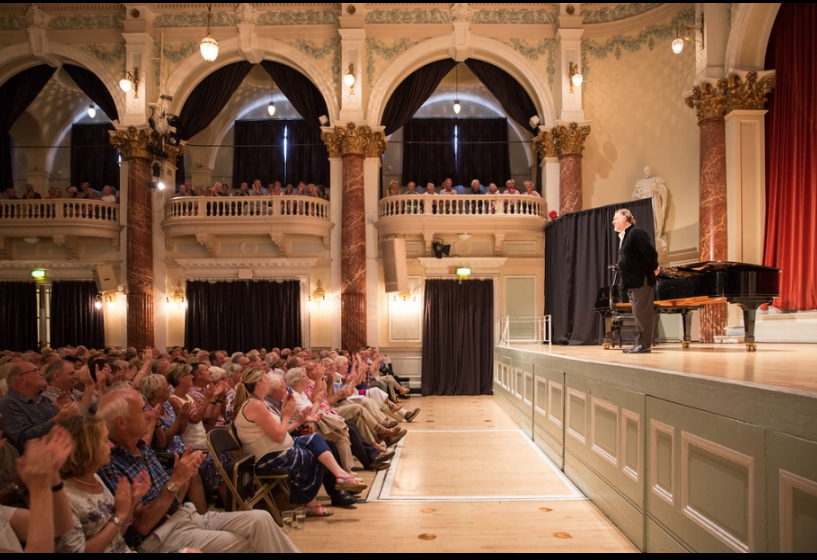 Cheltenham Music Festival is delighted to announce Classic FM – the UK's most popular classical music station - as major partner, featuring a live broadcast of the opening night concert presented by John Suchet and free concerts showcasing jazz, folk, indie, gospel and world music and family activities in Imperial Square over the opening weekend. A Fanfare for Three Trumpets will launch the Opening Weekend in style and the Festival has announced a cash prize of £250 for the winning composition. The fanfare competition is open to all ages and the winner will hear their fanfare performed all over town on 5 July.
The 200th anniversary of Clara Schumann is celebrated on 6 July with Schumann Square, a unique event taking place across four stunning Regency houses in Cheltenham's historic Imperial Square and Royal Parade. The event features a series of recitals which audiences can 'visit', performed by pianist Isata Kanneh-Mason, guitarist Xuefei Yang, pianist Tom Poster, violinist Elena Urioste and cellist Camille Thomas.
The stunning medieval surroundings of Tewkesbury Abbey provide the setting for Classical Mixtape on 8 July, a popular Festival highlight. This informal evening features performances by Festival guest artists in every corner of the Abbey, with pieces by Handel, Chopin, Mozart and Bach being performed alongside a world premiere by composer Betsy Jolas and a UK premiere from Einojuhani Rautavaara.
The mysteries on what happens to the brain of a musician whilst improvising is the subject of Live Human Experiments: The Musical Brain of Guy Barker, at Trinity Church on 13 July. In a fascinating hour that blends science and music, jazz trumpeter Guy Barker will be in conversation with Professor Vincent Walsh from University College London, with Barker taking part in a live neurological experiment whilst performing.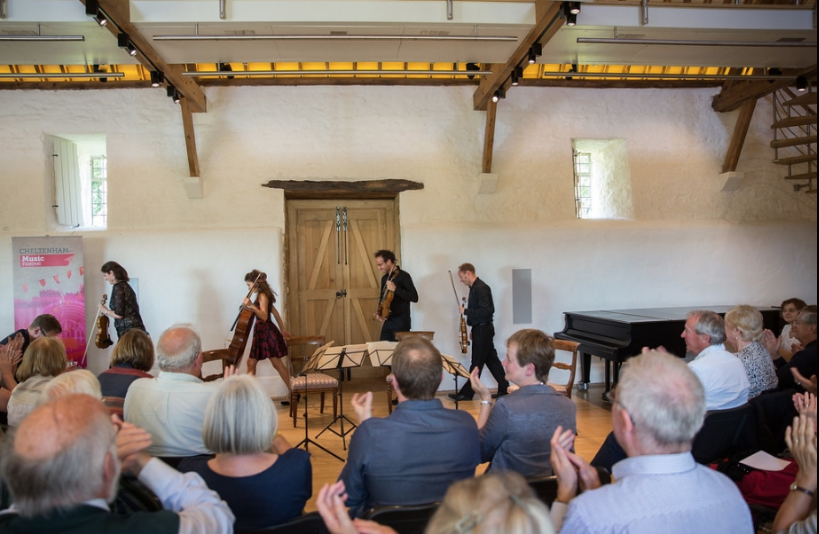 Strictly Come Dancing star, dancer AJ Pritchard, joins forces with jazz bassist Mischa Mullov-Abbado and his band and cellist Camille Thomas in Midsummer Dance And Music on 7 July at Cheltenham Town Hall. This eclectic programme combines dance and music, with pieces composed especially for this performance along with works by JS Bach and an interpretation of traditional Catalan folksong.
At Cheltenham Town Hall on 5 July, London Symphony Orchestra perform the first evening concert of the Festival under Elim Chan, in a programme created especially for the Festival's 75th anniversary. They perform the world premiere of a new work by Dani Howard, commissioned by Classic FM, alongside Tchaikovsky's Violin Concerto (with soloist Emmanuel Tjeknavorian) and Rimsky-Korsakov's Scheherazade Op.35.
The City of Birmingham Symphony Orchestra and Music Director Mirga Gražinytė-Tyla return on 6 July, where they are joined by Alison Balsom to perform the world premiere of Thea Musgrave's Trumpet Concerto, co-commissioned for the Festival by the CBSO in celebration of its centenary, and the LA Philharmonic for Alison Balsom. Musgrave was the first female composer to be commissioned by the Festival in 1956, and this all-British programme also features Ruth Gipps' Symphony No.2 along with works by Vaughan Williams and Walton.
New to 2019, Cheltenham Music Festival presents Composium, a day-long event celebrating the Festival's foundation as a place for composers and new music. Audiences, students, and industry movers and shakers alike will be given the opportunity to gather and explore classical music as a creative art form in the 21st Century. The day includes talks, panel sessions, and the chance for industry leaders and practitioners to engage with audiences. The day will include a number of performances of contemporary music, including eight brand-new works by the participants from Cheltenham Music Festival's Composer Academy. The inaugural Composium takes place at Pittville Pump Rooms on 10 July.
The 2019 Festival sees a strengthened commitment to championing young composers. At Composium early-career composers from the Festival's Composer Academy will have their compositions performed and recorded, having previously work-shopped them with Composer Academy Director, composer John Woolrich. Composium also provides participants with the opportunity to have access to industry professionals in a series of panel talks discussing craft and contemporary aesthetics along with career development. The Festival's collaboration with PRS for Music and Wild Plum Arts on a set of new compositions comes to fruition at Composium with the winning piece receiving its world premiere.
Cheltenham Music Festival continues to give a platform on the world stage to talented young artists. In addition to the three concerts by BBC Radio 3 New Generation Artists at Pittville Pump Rooms, the Festival also features recitals at St Gregory's Church showcasing exceptional young talent. On 13 July, the winner of Gloucestershire Young Musician 2019 will perform in recital with the 2018 Keith Nutland Award winner, violinist Louis Morford. Three early evening Rush Hour recitals from 8 July start with violinist Christian Li, who at 10 years old became the youngest ever recipient of the first prize in 2018's Junior Yehudi Menuhin
Violin Competition. On 9 July BBC Young Musician 2018 finalist Jeneba Kanneh-Mason performs, and the series concludes on 10 July with Scottish flautist Mark Taylor, a current member of the Countess of Munster Musical Trust's Young Artist scheme.
Full festival details can be found at www.cheltenhamfestivals.com/music
Related