23rd April is a special day for book lovers, one because it is World Book Night where free books are left on public transport, in parks and other public places for you to grab and two because it would have been William Shakespeare's birthday. It's also St George's Day. So, a day for celebration all round!
For those of you who are fans of the bard, we thought you might be interested in these great places to visit around the UK. Of course, you need to go to Stratford-upon-Avon, but we'll also tell you about some places in London, where he was at the height of his career and how you can have a Shakespeare themed time when in Scotland and Birmingham too.
First up, Shakespeare's birthplace, we all know that he was born and raised in Stratford-Upon-Avon, but did you know you can actually visit his childhood home?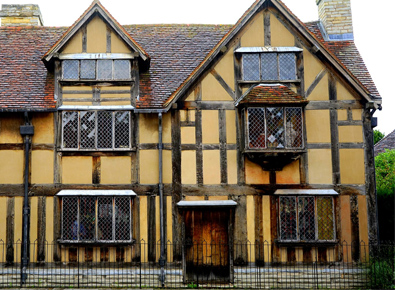 You'll find it in Henley Street, it has been renovated into the Shakespeare Centre and is the place to go for fans of the playwright. Not only did he spend time there as a child, but the first five years of his marriage were also spent in the house with his wife, Anne Hathaway.
If you're in the Stratford-upon-Avon area, make sure you head to Charlecote House, which you'll recognise from its Tudor gatehouse. The manor is just a short drive from town and was once the place where Shakespeare allegedly poached deer from Lord Lucy who owned the building at the time. Aside from being near Shakespeare's home, Charlecote House is a wonderful place to visit and you'll find lots of interesting things there to keep you entertained, it is a popular spot for picnics and birdwatching and there are loads of deer roaming around the grounds.
Also in the vicinity is a living museum which can be found at Wilmcote, where you'll find the childhood home of Shakespeare's mother.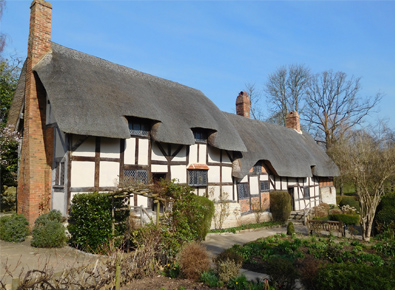 This charming and delightful house is full of farm staff in period costume and pretty much working as they would have done back in the house's infancy. It's a great way to see how they lived in the past but also have a connection to Shakespeare's heritage.
St Gregory's Church, in the nearby village of Tredington, is a worth a visit. Tredington is a wonderful chocolate box style village complete with thatched cottages and of course, the church, which has the tallest spire in the county. It is said that St Gregory's Church was Shakespeare's place of worship and where his brother in law was married. Shakespeare himself was married at Temple Grafton, which is also nearby, to Anne Hathaway. St Gregory's Church and the village of Tredington are both fascinating places to visit for anyone with an interest in history.
Stratford-Upon-Avon is home to the Royal Shakespeare Company who have been working to keep Shakespeare's legacy alive since the 1800s! They perform all year around at the Royal Shakespeare and the Swan Theatre, so be sure to check them out and book a performance while you're in town.
Of course, no tour of the UK for Shakespeare's birthday would be complete without going to the Globe Theatre in London.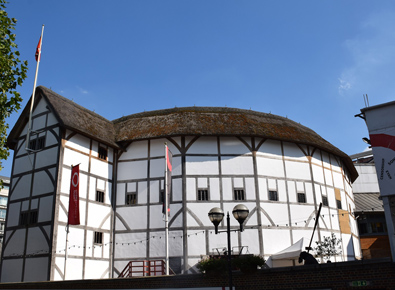 While you can't go to the actual Globe Theatre where Shakespeare's plays were performed, in the 90s a recreation of the Globe (now called Shakespeare's Globe) opened just a few hundred yards from the original site. There are regularly held events, workshops and performances held here, so it is well worth a visit.
Hampton Court Palace in London was another venue where Shakespeare's plays were performed. The Great Hall in Hampton Court Palace is where his theatre company were based for some of the 1600s. Hampton Court is a great tourist attractions for the whole family, even if they aren't into Shakespeare, it is still decorated to a Tudor theme making it ideal for history buffs.
Just over the border in Kent, you'll find Smallhythe Place, the former home of Dame Alice Ellen Terry, who was one of the leading Shakespearean actors during her life time, you'll find over 200 of her costumes on display at the house and of course, details of her acting career.
If the "Scottish Play" is a particular favourite, you might want to head North and take on the Macbeth Trail. Though it is very spread out, so don't attempt it on foot unless you are really up for a challenge. The "trail" takes in a variety of locations that were used in the play and are also historically important to the man the play was based on. You'll find sites such as Inverness Castle, Forres, where the witches were found and Macbeth's Stone, which is apparently where the real life Macbeth was executed.
If all of this sounds a bit much and you'd much rather have a more gentle Shakespearean encounter, try the public library in Birmingham. Just a stone's throw from the Bullring, the recently renovated library is open to the public and on the very top floor is a whole room dedicated to Shakespeare featuring busts, facts and of course books. Entry to the Shakespeare part of the museum is free and you can finish off your day by heading to the shopping centre or to one of Birmingham's other attractions.
Related