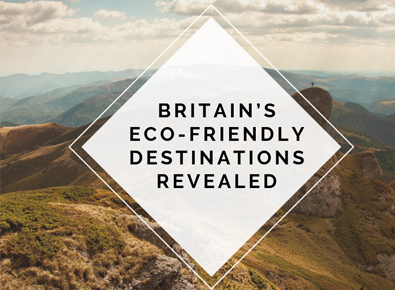 With Earth Day approaching on 22nd April, figures have been released revealing the UK's top destinations for anyone looking for an eco-friendly holiday.
Tourism business across the UK are working hard to reduce their carbon footprint and with more and more people becoming aware of how their actions are affecting the environment, there are new 'green' options appearing all the time for holiday makers. You can stay in eco-lodges, use public transport, eat locally sourced food and generally enjoy your holiday while also being safe in the knowledge that you are helping to preserve the beautiful landscape around you.
To help you plan an eco-friendly holiday, hometogo have researched hundreds of locations across the UK and created a short list of fourteen of the best destinations offering greener options to holiday-makers. Their research took in everything from recycling rates, to public transport, to the amount of green space, how food is produced and more.
The research revealed that Wales is the top when it comes to rural destinations as it has the highest recycling rates and the most national parks, but Glasgow has the highest proportion of green space when it comes to cities. Speaking of Scotland, the research shows that if you want environmentally friendly food, it is best to head there or Brighton, as they have the most vegan and locally sourced menus per capita and Brighton is also home to the UK's only Green MP, making it the greenest city in the list. Dorset has more farmers' markets for its population than anywhere else on the list, so those looking for local produce should head to one of the seaside towns in the county to sample some amazing locally grown food.
Hometogo have split their fourteen top destinations into two lists of seven, is there anywhere you want to go on these lists? Be sure to check out what events are going on locally.

The Seven most Eco-Friendly Cities in the UK
Brighton
Bristol
Edinburgh
Manchester
Glasgow
Newcastle
London
The Seven most Eco-Friendly Countryside destinations in the UK

Wales
Devon
Scotland
Somerset
Dorset
Yorkshire
Kent
Related