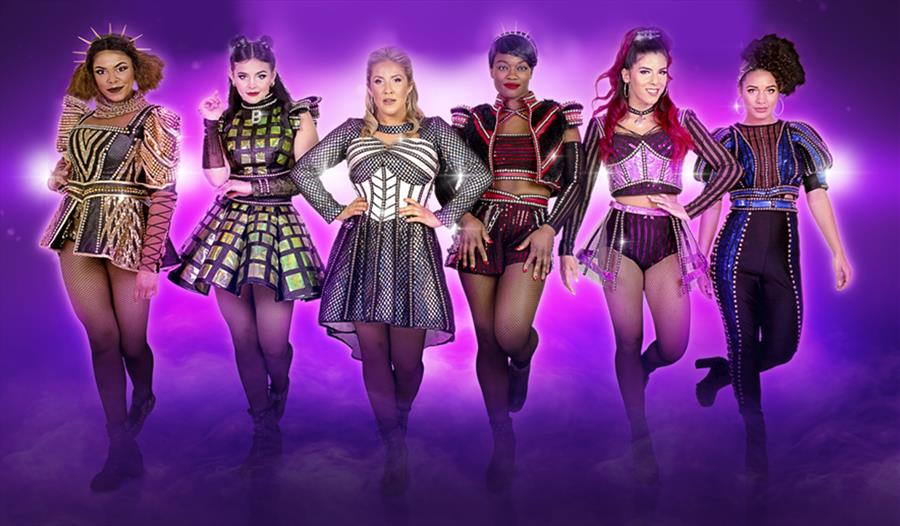 Image: Visit Nottingham.
If someone said to you they were going to see a musical based on the lives and deaths of Henry VIII's wives, you probably think it is going to be a woeful, dower experience akin to Les Miserables, but you'd be wrong.
Currently touring the UK, the musical production of Six is fun, flirty, funny and much more like a night out watching your favourite girl band than a history lesson. The basic premise is this, the wives of Henry VIII, fed up of being overshadowed by him team up to create a six piece girl band who then strive to win a singing competition where each one claims to have had a worse life than the one before.
Katherine of Aragon kicks off proceedings with a sassy rendition all about how she refused Henry a divorce, Anne Boleyn has a Lily Allen-esque pop song, Jane Seymour bangs out a power ballad, Anne of Cleeves, who arguably got the best deal, brings in the German influence, Katherine Howard is fresh, fun and upbeat and Katherine Parr, the surviving wife laments on how she had to give up the love of her life all because Henry decided to make her wife number six.
Unlike your average stage show, this runs at 75 minutes with no interval, it is a high energy performance full of witty banter between the six leads, the knowing winks with the audience as they grasp the full meaning of what is being said and has unexpected moments of sadness and sympathy. Each queen's solo tells their story of abuse, betrayal and unfair treatment but this isn't all doom and gloom, it is leading up to the six of them coming together to take back their names and history and to set the record straight over who the real villain is here: their shared husband.
The music is incredibly catchy, the dancing, story and costumes all marvellous and the six queens gave their final performance to standing ovations and rapturous applause. Catch it while you can – the show is on tour across the UK with dates in Liverpool, Wolverhampton, Brighton, Nottingham, Bromley, Southend, Mold, Sheffield, Dublin, Hull, Canterbury, Plymouth, Coventry, Leicester, Leeds, Newcastle, Southampton, Bristol, Norwich, Birmingham, Milton Keynes, Bath, Cheltenham, Woking, and Edinburgh still to go.
Related