National Spa Week is coming, kicking off on 10th September what better excuse could you need for planning a trip away? Luckily for you, Britain has loads of incredible spas for you to pamper yourself at, the UK has always been at the forefront of spa culture with natural hot springs that have long enchanted visitors. A couple of these historic spas still exist, giving you a taste of Britain's heritage alongside a relaxing break.
If you're thinking of having a spa break, you could book into a nearby hotel and have done with it, or you could investigate some of the UK's spa towns and do a bit of sight seeing and a bit of pampering in one.

The best bit? All these towns are easily accessible from international airports around the country, by train and by road.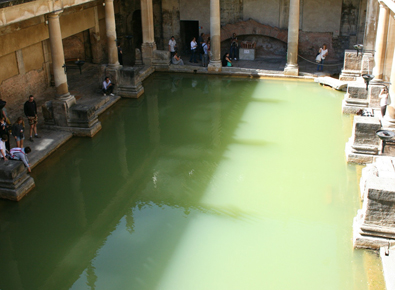 Here are five places you can visit during National Spa Week!
Royal Leamington Spa
In the centre of Warwickshire you'll find Royal Leamington Spa, this was one of the 19th century's go to places for relaxing and embracing the healing properties of spa water. This charming town is just a 1 hr 20 minute train journey from London or is only half an hour from Birmingham. It has some reminders left over from its time as a popular spa town, you'll find Grade 2 listed Royal Pump Rooms, where baths once stood. Instead of water, you'll now find museums and art galleries, plus there is a lovely garden right outside for you to explore.
Malvern
This one is on the list even if it grew in popularity after the others. Many of the spa buildings are still in use as public buildings plus you've got the Area of Outstanding Natural Beauty with the Malvern Hills and the town has plenty of beautiful things to look at, from gardens, to shops to buildings. You can still drink and bathe in Malvern's water at the Malvern Spa, which offers several luxury spa treatments and accommodation. You can get to Malvern easily by train from Bristol and is about 2.5 hours away from London by rail.
Bath
We're bringing out the big guns with this one, Bath is probably the UK's most famous spa town, not only do you have the Roman Baths in the centre of the city were you can explore the remains of a Roman bath house and learn about how they harnessed the city's natural thermal spas, but you also have the gorgeous Georgian buildings and the Thermae Bath Spa, a day spa where you can bathe in Britain's only natural thermal waters and experience a range of spa treatments. Bath is easily accessible by road, rail and is only a short distance from Bristol International Airport.
Buxton
Buxton in the Peak District is a historic spa town which rivalled Bath in the 18th century and is only an hour from Manchester by train. It too has geothermal waters, if you can wait a little while longer, you'll be able to experience their newly renovated spa hotel which will feature the original thermal pool and water from the nearby ancient spring as well as a number of treatments and other spa facilities. In the mean time, visit the town for its heritage and culture!
Cheltenham
Cheltenham isn't far from Bath and rose to popularity as a spa town with medicinal waters in the 18th century with even royalty visiting. Visitors to Cheltenham will see some beautiful Georgian buildings, plus the original marble and scagiola spa water pump is still in the main hall. Cheltenham is a popular destination in the Cotswolds and boasts many elegant hotels as well as cultural events on throughout the year.
So there you have it, five places to visit during National Spa Week, if you find yourself in any of these spa towns, don't forget to tag us in your pictures, you can find us on Facebook, Twitter and Instagram, follow #staytripper to see everyone else's photos!
Related